After our Thanksgiving festivities yesterday with Dave's parents, we (read: I) wanted to get out of the house, so we headed up to Garden Ridge. In their Black Friday ad they had Thursday only specials, one of which was pre-cut 2-yard drapery remnants for $1.99 in assorted colors. I thought I'd be able to find something to use as a tree skirt that had muted reds, greens, and golds, instead of using my usual quilted one. It's kinda blah and I'm over it.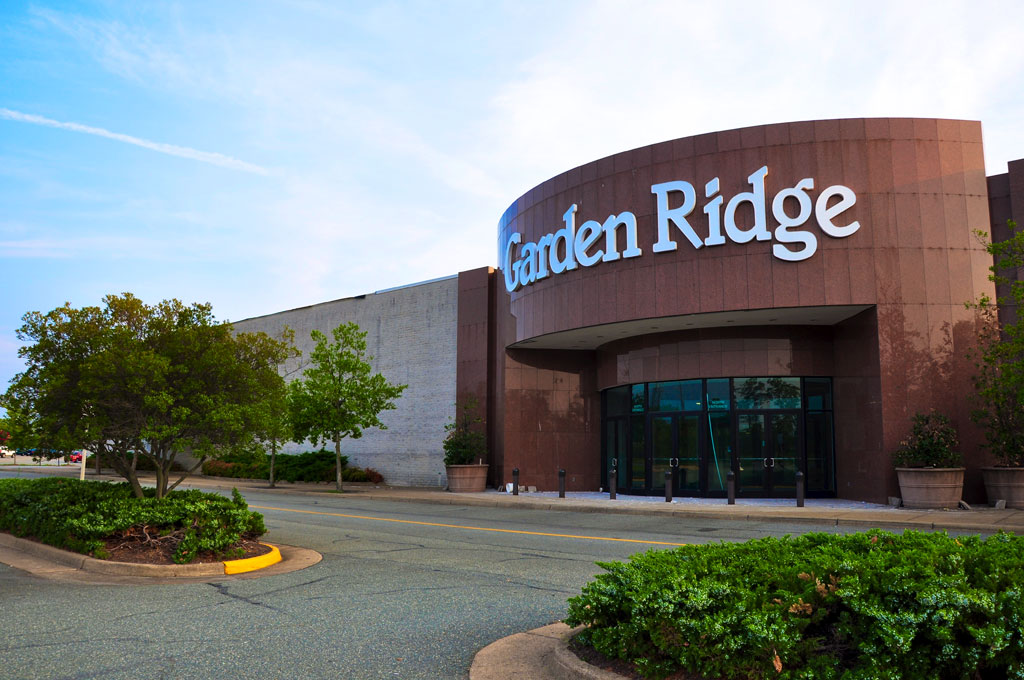 It was our first time inside, so we didn't know what to expect when we got in there..we'd been to the one out by the airport, but this one's smaller so I thought it would be cramped like an old antique/junk shop. The result? I instantly fell in love and Dave rolled his eyes, as if to say "awww jeez we're gonna be in here for hours." I felt his pain because that's really not his thing, so I tried to keep myself in check while walking around. The first thing we noticed were Christmas trees in the weirdest colors - hot pink, yellow, royal blue, and JMU purple - on sale for $59, down from $150. We looked at each other and I could tell we were thinking the same thing, but I said 'tacky' and we both walked away. Then we found an aisle with grilling stuff so that kept Dave busy for a few minutes while I explored.
We finally made our way back to the fabric area, and looked long and hard for the perfect fabric - basically meaning one that didn't make me want to vomit and give me flashbacks to grandma's. Here's the one we picked:
On our way to the registers we passed the trees again, but noticed there were table-top versions of each color - less tacky, but still tacky. I couldn't stop thinking of ways I could make that tree classy with gold, purple, and white ornaments and accents. You know how I get when I have an idea in my head - it's hard for me to walk away. But that's what I did. We bought our tree skirt and headed home, where I immediately logged in to see what kind of deals I might find there today. What do you know - those table-top trees that normally sell for $50 would be $20 today! I can't pass that up, can I?
I decided to sleep on it, but when I woke up this
morning
almost-afternoon, I knew I'd buy that thing today. And I did. I hoped that all the Black Friday craziness would have died down by lunchtime, and I was right. Parking lots were full, but traffic was ok and I only almost-hit a few wayward pedestrians. I got my tree and some decorations in my desired color scheme. Then I went to
Michael's
for gold ribbon and paint markers (gold, purple, and white) for DIY ornaments, and
Joann's
for cheap, white tree skirt fabric ($1.29/yd BF special - score!).
Here's my loot - I got all of it including the tree for less than $70!
Tree: $20
Four boxes of ornaments in purple, gold, white, and clear: $20
Mini-ornaments, ornament hooks, and gold beaded garlands: $12
Paint markers: $12 (that's for the 3 big ones, I'm returning the smaller ones since I didn't use them)
Tree skirt fabric: $4
I know it's still $70 gone, but I think it's well worth it for a project like this - and it's a one-time investment that we'll hopefully enjoy for years! And it gives us an opportunity to start collecting JMU
ornaments
that come out each year. They're pretty reasonable and will make great stocking stuffers :)
Back to the tree, isn't it tacky and glorious?
When I first took it out of the box and spread out the branches, I thought it might be
too
tacky, but I gave it a chance and started putting the garlands and ornaments on it, and I think the finished product is cute. I will acknowledge that a purple Christmas tree is unconvential and a lil trashy, but I love it. It's grown on me so much that I'm thinking about not putting the big tree up. Unfortch that would mean I wouldn't get to use my awesome $2 fabric, so we'll put it up tomorrow...
Here's the finished JMU tree, in all its tacky glory:
I've fixed the wonky garland in the middle since Dave took this picture...
...and some close-up shots:
I tied simple gold bows on some of the empty branches
One of my DIY ornaments - I wrote 'JMU' on one side, 'MRD' (Marching Royal Dukes) on the other, and added some music notes...
Dave's mom bought this snowman ornament for him the year he graduated and wrote his name and graduation year on it...
I put my gold glockenspiel on the tree, to commemorate my days in the pit with the MRD's
Another DIY ornament - just 'JMU' on one side and 'dukes' on the other