When I went to JMU I was part of the
Marching Royal Dukes
, "Virginia's Finest." I was certainly out of my league and not a good enough xylophone player to keep up with kids who had played since they were 4 and participated in
Drum Corps
every summer. That's not me being self-deprecating, it's me saying these people are the best teenage/early 20's musicians out there! I marched for 4 years in high school, but only played the xylophone during marching season - I was a mediocre oboe player in concert band/wind ensemble.
What I'm getting at is that while I was a small fish in a big pond and only made it through 1 season with the MRD's without being made an alternate, being a part of this organization so worthwhile! I learned from some of the most talented players and instructors and was introduced to school spirit at a whole new level! So different from high school marching as we didn't go to competitions or many road trips, but we performed twice at every football game, and it was hard not to become close with people you spend up to 20 hours with each week.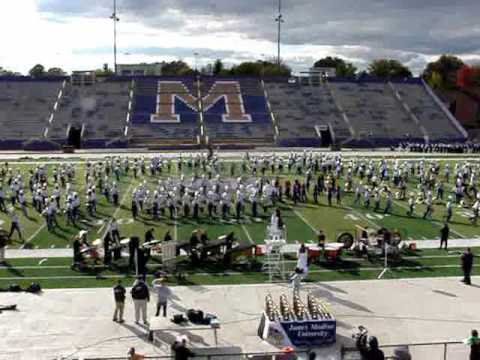 The MRD's posted on their Facebok page this weekend that we could come see them Monday night at Chesterfield's County Band Night hosted by
Monacan High School
. Um, yes please - that's right down the road from our house! The marching bands from each of the county's high schools performed, and JMU played last.
It was so much fun to see the bands play - took me back to the high school days when that was where I was every single weekend. At a competition somewhere wearing that smelly, sweaty hat and hoping I didn't forget to pack my black socks and mallets! The place even smelled familiar - like popcorn and sweaty hats. That sounds gross, and it should because it's a gross smell!
James River was my favorite, but I might be biased because they were always the best back in the day. They won grand champs at a ton of our competitions. There was one chick in the pit who was awesome - she used 2 pairs of sticks throughout the performance and was flawless - at least to my ears! Wouldn't be surprised if she's an MRD one day! :)
Clover Hill was up there, and all the M schools were tied for 3rd in my my mind :) - 5 of the 10 high schools in the county have names that start with M.
The MRD's marched onto the field in sections, and after the first one arrived people in the audience thought that was the whole band...so when the rest of the sections marched on I could hear gasps from the people around me in the stands. Guess these people didn't realize how huge JMU's band is. I think it's around 400 players, plus or minus alternates who perform on the sideline.
Here are the MRD's playing 'Get It On' and the fight song, during which you can hear Dave singing his little heart out!
...and Van Morrison's 'Moondance.'
And since I never know how to end these entries, I'll leave you with my favorite picture of the night - I'm not sure why I like it or even why I took it, but it's cute: