Last weekend was jam-packed with good times and good friends! It started with a date night at
Cinebistro
to see
The Ides of March
- great movie and a great meal! I love that place :)
Sunday morning I got up early to head to
Graves Mountain Apple Harvest Festival
with Bonnie and Crystal - a few of us go every year and it's always so much fun!
We walked around all the vendor tents, where there were some interesting things people could buy for their homes, like this reminder for all husbands:
Happy Wife, Happy Life!
Scentsy had a booth, and Crystal knew all about it! I had heard of it but just thought it was some other candle home party company, which it kinda is...but the scented wax is melted by a light bulb instead of a flame, so you don't have to worry about falling asleep with an open flame next to you! Their scents are awesome! I picked up this eggplant warmer and 3 scents: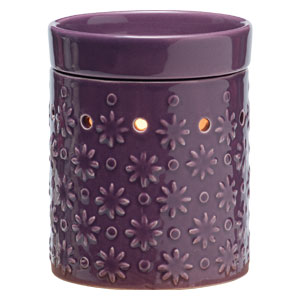 Can't wait to plug it in and try it out!
Crystal found a cute sock monkey hat - which I hear through the grapevine can be found at Walgreen's for $7, much cheaper than the $18.50 price tag at Graves!
After lunch in the barn we headed over towards the apple bins, and passed this guy churning apple butter:
Then we hit the apples! They bins and bins of all different kinds of apples. I just got a mix of different kinds, because I knew I'd be baking with them and had no idea which ones were better or worse for baking...I figured if I only bought one kind, that would inevitably be the one that isn't good for baking. :)
After I picked up my apples we headed home to meet up with the rest of our clan for the
State Fair
! It was very ambitious to do both these activities in one day, but we took a bit of a break in between to build up some new energy :)
My main goal at the fair, besides eating fatty fair food and having lots of laughs with my friends, was riding the ferris wheel. I have developed a fear of heights over the years - I'm not sure where it came from since I used to love riding roller coasters and sky wire bucket things at Kings Dominion and rode the tram up to the top of Stone Mountain and ran around the top for a while without a care in the world. But for some reason now I am so fearful anytime I'm high enough that I feel I'd break multiple bones if I fell. Bridges are the worst.
I publicly declared to the group that I was riding the ferris wheel and told them not to let me chicken out. I don't believe I tried to get out of it after my declaration, but they might tell a different story :) I rode it with Dave, Bonnie, and Joe. Bonnie and Joe were very supportive, even offering their hand for support only to be turned away since I was clinching the side of the bucket with all the strength I had...I suppose I thought my little fingers would keep me attached to it if we began to plummet to the ground. Jeez, I'm delusional. Dave, on the other hand, was NOT supportive at all! He kept jumping around, rotating himself to take photos. Every time he did that the bucket started to sway and I thought it would turn upside down and drop us out! I kept yelling at him to sit still and he wouldn't - the nerve!
This is the only picture I took at the fair before my camera died :( It's good though...
I'm sure I made the trip miserable for all 3 of them, and at one point Bonnie (who had also never ridden a ferris wheel) said she was starting to get scared because of my reaction! Haha! Here's a video Dave took while we were up there - you can hear me in the background the
entire
time complaining about what a bad choice this ride was:
Once it stopped I hopped out of that bucket and almost ran down the ramp to get out of the area! Haha - we ate some more fatty fair food and then decided to try and catch a few songs at
The Band Perry
's concert on the other side of the park. We missed my favorite song of theirs,
If I Die Young
, but heard a couple other good ones. Then it was time to head home and rest my aching feet!
Fun weekend! And I got to cross three things off my
fall bucket list
: State Fair of VA, Graves Mountain, and Ride a Ferris Wheel :)